A BRIEF HISTORY OF THE BANK SINCE ITS INCORPORATION
1907
·  Bank was incorporated on March 5, 1907 with an Authorized Capital of Rs.20 lakhs and commenced its business on August 15, 1907.

·         In the year 1907, the Indian Bank Ltd. had the tree 'Banyan' as a part of its emblem denoting an all around progress, growth (far and wide) and an ever increasing prosperity.

1921
·         Bank's capital was raised to Rs.60 lakhs from Rs.20 lakhs.
1932
·         Bank celebrated its Silver Jubilee.

·         Bank opened its first overseas operations in Colombo.

1941
·         Singapore branch was opened.
1957
·         Bank celebrated its Golden Jubilee.
1967
·         Bank celebrated its Diamond Jubilee.
1978
·         Bank's logo comprising of three circling arrows arranged around a central point was approved.
1982
·         Bank celebrated its Platinum Jubilee.
1990
·         Bank of Thanjavur Ltd. (BoT) with 157 branches was amalgamated with the Bank.
2006
·         The centenary year celebration was inaugurated by His Excellency the President of India Shri. A P J Abdul Kalam on 4th September.
2007
·         Bank went in for Initial Public Offer in February, 2007.
2008
·         Achieved 100 per cent Core Banking Solutions (CBS) compliant.
2019

·         'Tamil Nadu Grama Bank' commenced operations on 1st April 2019 after a successful amalgamation of Pandyan Grama Bank of Indian Overseas Bank with Bank's Pallavan Grama Bank.

·         Government of India announced Amalgamation of Allahabad Bank – a bank with 155 years legacy into Indian Bank. On April 1, 2020, the amalgamated entity came into effect.
Extensive Customer Reach: (Combined Entity)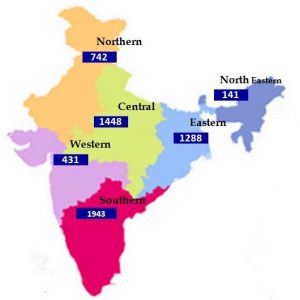 Number of Branches                                     :   5996 (including 3 Overseas Branches)

Number of ATMs & BNAs                            :   5343

Number of Business Correspondents        :   9057
                                                 Bank's Performance as on 30.09.2020
Assets and Liabilities
Total Balance sheet size grew by 7.75% (Y-o-Y) and was Rs.584880 crore as of Q2FY21 as against Rs.542807 crore as of Q2FY20. On a sequential basis it increased by 1.58%.
Total Business at Rs.867853 crore as of Q2FY21, recorded a Y-o-Y growth of 5% over Q2FY20. On a sequential basis it increased by 1%.
Total Deposits at Rs.501956 crore as of Q2FY21 recorded a Y-o-Y growth of 7%. On a sequential basis it increased by 3%.
Domestic CASA deposits recorded a Y-o-Y growth of 9% and share of CASA was 41% of total domestic deposits as on Q2FY21 as against 40% as on Q2FY20. Growth in CASA was primarily driven by a Y-o-Y increase of 12% in Current account deposits and Y-o-Y growth of 9% in Savings account deposits.
Advances at Rs.365896 crore as of Q2FY21 grew by 2% over Q2FY20 (Rs.359391 crore) driven primarily by growth in Retail (2%), Agriculture (7%), MSME (5%) and supplemented by Overseas advances (6%). Corporate Loans portfolio contracted by 2%.
Priority Sector portfolio increased to Rs.138244 crore as of Q2FY21 from Rs.133573 crore as of Q2FY20. Priority sector advances as a percentage of ANBC stood at 43.88% as against the regulatory requirement of 40%.
Capital Adequacy
The Bank's total Capital Adequacy Ratio (CRAR) as per Basel III guidelines was healthy at 13.64% as at Q2FY21 vs 13.45% as of Q1as against regulatory requirement of 10.875%.
Tier-I CRAR was at 10.74% as on Q2FY21 Vs 10.30% as on Q1FY21 on sequential basis.
Asset Quality
Gross non-performing assets were at 9.89% of Gross advances as on Q2FY21 brought down by 275 bps from 12.64% as on Q2FY20. On a sequential basis it decreased by 101 bps.
Net non-performing assets came down to 2.96% as on Q2FY21 from 4.59% of Net advances as on Q2FY20 with a reduction of 163 bps. On a sequential basis it decreased by 80 bps.
Recovery of Bad debts improved by 38% during Q2FY21 over Q2FY20.
Operating Profit and Net Profit
The Bank's Operating Profit has registered a robust growth of 40%, touching Rs. 2995 crore for the Q2 FY21 as against Rs. 2135 crore for Q2FY20. On a QoQ sequential basis it increased by 9%.
The Net Profit at Rs. 412crore for Q2 FY21 as against net loss of Rs.1755 crore for Q2 FY20 mainly on account of increase of Non-Interest income by 29%. On a QoQ sequential basis it increased by 12%.
Digital Initiatives
·         Web portal for Doorstep Banking.
·         PMJJBY and PMSBY web service for BCs.
·         On-line portal for applying COVID loan.
·         On-line OTS for combined entity.
·         NPA tracker through mobile app for combined entity.
·         Integrated GeM (Government e market place) challan collection.
Financial Inclusion
Since the inception of PMJDY on 16.08.2014, Bank has opened 174 lakh Basic Savings Bank Deposit Accounts.
RuPay Cards have been issued to 105 lakh BSBD Account holders.
All the SSAs allotted to the Bank are covered with either brick and mortar branch or with Bank Mitra.
All the Bank Mitras are provided with inter operable Micro ATM/ Kiosk Aggregated Solution (KAS) devices as per the IBA standard (1.5.1)
Average monthly transaction done per BC is more than 1224.
Aadhaar Enabled Payment System (AEPS) inter-operability facilities are enabled in all POS machines/KAS deployed in SSAs.
CSR as Brand Building Tool during Covid-19
Bank extended support to the affected community through various welfare measures across the country. Initiatives include

Distribution of PPE kits – masks, gloves, face shields, sanitisers, coveralls etc to frontline covid warriors
Contribution to Chief Minister's Relief Fund in various states
Support to procure medical equipment in hospitals and
Distribution of food packets to the needy/stranded people.
( Last modified on Nov 27, 2020 at 03:11:00 PM )