A BRIEF HISTORY OF THE BANK SINCE ITS INCORPORATION
1907
·     Bank was incorporated on March 5, 1907 with an Authorized Capital of Rs.20 lakhs and commenced its business on August 15, 1907.

·         In the year 1907, the Indian Bank Ltd. had the tree 'Banyan' as a part of its emblem denoting an all around progress, growth (far and wide) and an ever increasing prosperity.

1921
·         Bank's capital was raised to Rs 60 lakhs from Rs 20 lakhs.
1932
·         Bank celebrated its Silver Jubilee.

·         Bank opened its first overseas operations in Colombo.

1941
·         Singapore branch was opened.
1957
·         Bank celebrated its Golden Jubilee.
1967
·         Bank celebrated its Diamond Jubilee.
1978
·         Bank's logo comprising of three circling arrows arranged around a central point was approved.
1982
·         Bank celebrated its Platinum Jubilee.
1990
·         Bank of Thanjavur Ltd. (BoT) with 157 branches was amalgamated with the Bank.
2006
·         The centenary year celebration was inaugurated by His Excellency the President of India Shri. A P J Abdul Kalam on 4th September.
2007
·         Bank went in for Initial Public Offer in February, 2007.
2008
·         Achieved 100 per cent Core Banking Solutions (CBS) compliant.
2019

·         'Tamil Nadu Grama Bank' commenced operations on 1st April 2019 after a successful amalgamation of Pandyan Grama Bank of Indian Overseas Bank with Bank's Pallavan Grama Bank.

·         Government of India announced Amalgamation of Allahabad Bank – a bank with 155 years legacy into Indian Bank.

2020
·         Bank commenced its operation as an amalgamated entity from 1st April 2020. The integration of CBS systems of both the Banks was completed on 14.02.2021.
Branch Network
              Domestic branches: 5809 

              Overseas branches: 3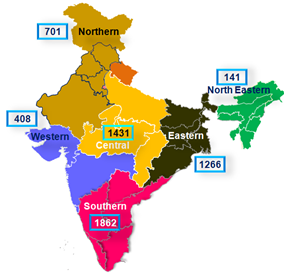 Bank's Performance as on 30.06.2021
Assets and Liabilities
Domestic CASA deposits grew by 9% YoY while moderated by 3% QoQ and touched ₹220874 Cr in Q1 FY22. Share of CASA to Total Deposits was 41% in Q1 FY22 as against 42% a year ago. Current account deposits grew by 18% and in Savings account deposits by 8% YoY.
Advances grew by 6% to ₹389625 Cr in Q1FY22 over ₹366787 Cr a year ago, primarily driven by growth in RAM sector (13%) of which growth in Retail, Agriculture and MSME was 9%, 17% and 12% respectively. On QoQ sequential basis advances marginally declined by 0.2%.
Balance sheet size grew by 8% YoY and was ₹621669 Cr as on 30th Jun'21 as against ₹575766 Cr as on 30th Jun'20. On a sequential QoQ basis, it declined by 0.7%.
Total Business recorded YoY growth of 9% reaching the level of ₹929708 Cr in Jun'21 as against ₹855896 Cr in Jun'20. On a sequential QoQ basis it increased by 0.1%.
Total deposits grew by 10% YoY and 0.4% QoQ and stood at ₹540082 Cr as on Jun'21 as against ₹489109 Cr in Jun'20.
Priority Sector portfolio increased to ₹144680 Cr in Jun'21 from
₹138786 Cr in same quarter of the previous year. Priority sector advances as a percentage of ANBC stood at 43.78% as against the regulatory requirement of 40%.
Capital Adequacy
For Q1 FY22, Bank's total Capital Adequacy Ratio (CRAR) was at 15.92% with 247 bps YoY increase. On a sequential quarter basis, it increased by 21 bps from 15.71% in Q4 FY21.
Tier-I CRAR was at 12.22% in Jun'21 against 10.47%, up by 175 bps YoY. On a sequential quarter basis, it increased by 28 bps from 11.94%in Q4 FY21.
Asset Quality
GNPA was at 9.69% of Gross advances as on Jun'21 brought down by 121 bps YoY and 16 bps QoQ.
The Net NPA ratio declined to 3.47% at 30th Jun'21 from 3.76% in Jun'20. It stood at 3.37% at 31st Mar'21.
Operating Profit and Net Profit
The Bank's Operating Profit has registered a growth of 26% YoY to ₹3472 Cr for Q1 FY22 as against ₹2753 Cr for Q1 FY21. On a QoQ sequential basis it increased by 36%.
The Bank's Net Profit for the quarter grew by 220% YoY to ₹1182 Cr from ₹369 Cr in Q1FY21. On a QoQ sequential basis Net Profit declined by 31%.
Digital Initiatives
Enablement of Hot listing of Debit cards
Introduction of Online credit card application portal.
GST enablement in UPI as acquirer.
Introduction of PFMS EPA (Electronic Payment Advice) Payment through Corporate Net Banking
Enablement of Positive Pay System in IndOASIS to confirm cheque details.
Integration of Digital Passbook in Digilocker application.
Implementation of Loan Management System (LMS) to enable the Bank for end to end digital lending.
Financial Inclusion
Since the inception of PMJDY on 16.08.2014, Bank has opened 55 lakh Basic Savings Bank Deposit Accounts.
RuPay Cards have been issued to 14 lakh BSBD Account holders.
BC network has presences in 24 states and 05 union Territories.
All the Bank Mitras are provided with inter operable Micro ATM/ Kiosk Aggregated Solution (KAS) devices as per the IBA standard (1.5.1)
Market share in terms of account is at 4.21%, while in terms of balance outstanding at 4.53%.
CSR as Brand Building Tool during Covid-19
Bank extended support to the affected community through various welfare measures across the country. Initiatives include
-Distribution of PPE kits – masks, gloves, face shields, sanitisers, coveralls etc to frontline covid warriors
-Contribution to Chief Minister's Relief Fund in various states
-Support to procure medical equipment in hospitals and
-Distribution of food packets to the needy/stranded people.
( Last modified on Aug 06, 2021 at 05:08:11 PM )
Ask ADYA