Managing Director & CEO's Profile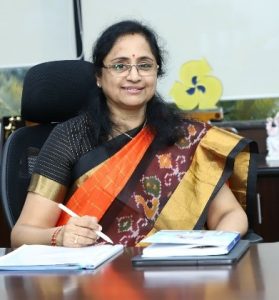 Ms. PADMAJA CHUNDURU
Managing Director & Chief Executive Officer
Padmaja Chunduru has assumed charge as Managing Director & CEO of Indian Bank on 21st September 2018. Prior to this, she was Deputy Managing Director (Global Markets), State Bank of India, Corporate Center, Mumbai.
A Post Graduate in Commerce from Andhra University, and CAIIB, Ms Padmaja joined SBI in 1984 as a Probationary Officer. In a career spanning more than 3 decades, with postings in India and USA, she gained rich experience in corporate lending and Credit management, Retail operations and Digital Banking, Treasury and International operations.
As DMD, Ms. Padmaja headed the Global Markets and Digital Banking verticals in SBI. Prior to assuming the role of DMD, she was the Country Head of the Bank in USA between September 2014 and August 2017. During this tenure, she handled the responsibilities of designing and overseeing strategic planning, business activity, risk management and compliance in the US Offices of SBI in New York, Chicago and Los Angeles. She was instrumental in driving local US business through both syndicated and bilateral loans to US Corporates. She maintained good relationship with FRB, FDIC and State Regulators. Ms Padmaja was also Vice-Chair of Board of Directors and Chair of EC of SBI (California), a US-based subsidiary bank of SBI. She headed the Combined US Ops Risk Committee constituted under Dodd Frank Act. She was on the Banking committee of USIBC and a member of the Board of Trustees of the International Bankers Association New York, Asia Society New York and the Pacific Rim Bankers Group, San Francisco.
Earlier, Ms. Padmaja was General Manager of Corporate Accounts Group in SBI between October 2012 and August 2014, when she established the CAG-BKC office of SBI. She played a key role in establishing and managing relationships with large India conglomerates. She was responsible for the underwriting of new loans, maintenance of asset quality and compliance with regulatory guidelines. Prior to this, she was DGM, Mid-Corporate Group from October 2008 till September 2012 and headed the Diamond branch and later, the Commercial branch in Mumbai.
In her first overseas stint, Ms. Padmaja joined SBI Los Angeles Agency, in USA, in September 2001 as Vice President (Credit & Operations) and completed the assignment in February 2006 as its CEO. During this tenure, she led the business growth, management and operations of the federally regulated Agency in California.
Presently, Ms. Padmaja Chunduru is a member on the Board of Life Insurance Corporation of India and in the Governing Body of IBPS. She is also a member in the Managing Committee of Indian Banks Association and a member of the Insurance Advisory Committee of IRDAI.
Ms.Padmaja Chunduru has been featured as one of the Top 100 most Outstanding and Successful Women Finance Professionals for the year 2020, by Association of International Wealth Management of India. (AIWMI)., an Association for Finance Professionals.
( Last modified on Oct 14, 2020 at 07:10:16 PM )