Managing Director & CEO's Profile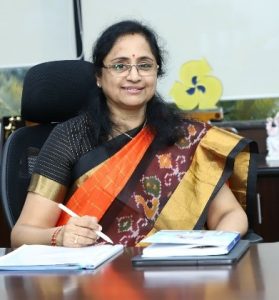 Ms. PADMAJA CHUNDURU
Managing Director & Chief Executive Officer
Ms. Padmaja Chunduru is MD & CEO of Indian Bank since September 2018, after a 34 year stint in SBI. At Indian Bank, Ms. Padmaja has successfully steered the amalgamation of Allahabad Bank into Indian Bank amid the Covid challenges. With this merger, Indian Bank doubled in Balance Sheet size and network and today is among the top 10 banks in the country, with 6000 branches, more than 40000 employees and business of more than Rs.9 tn. Post merger, the Bank has quickly moved to re-establish itself as one of the strongest banks in terms of growth, profitability and capital strength.
As Dy. Managing Director, SBI, she headed the Digital Banking vertical. She was the Country Head, US for SBI in New York from 2014 to 2017, overseeing strategic planning, business growth, risk management and compliance. She was involved in critical discussions with US Regulators on the Bank's operations in the US and was successful in placing the US Operations on a steady growth path.
A Post Graduate in Commerce from Andhra University, Ms. Padmaja joined SBI in 1984 as a Probationary Officer. In a career spanning more than 3 decades, with postings in India and USA, she gained rich experience in Corporate lending and Credit management, Retail operations and Digital Banking, Treasury and International operations.
Ms. Padmaja is a member on the Board of Life Insurance Corporation and the Managing Committee of Indian Banks Association. She is heading the IBA Standing Committee on Corporate Credit. She is also on the Board of Governors of the Madras School of Economics and was part of the High Level Committee constituted by the Tamil Nadu Government to combat the Covid crisis.
She is Non-executive Chairman of the Universal Sompo General Insurance Company Ltd and a member in the Governing Body of IBPS and NIBM. She is also a member of the Insurance Advisory Committee of IRDAI.
She has been adjudged as the "Banker of the Year" by Financial Express, for the year 2019-20.
( Last modified on Jul 16, 2021 at 11:07:54 AM )
Ask ADYA