Introduction of: IB-DIGI"- Online Savings Bank Account
Indian Bank has now introduced the facility of opening Savings Bank Account online. The account can be opened through either bank's official website (www.indianbank.in ) or IB Customer Mobile App (available on Android version currently). Instant Account Number is generated and digital banking (like funds transfer through net banking, mobile banking, etc.) can be done with immediate effect.
Enrolment for PMJJBY,PMSBY and APY through IB
To further strengthen digital banking, customers can now enrol under the Social Security Scheme namely Pradhan Mantri Jeevan Joyti Bima Yojana (PMJJBY), Prandhan Mantri Suraksha Bima Yojana (PMSBY) and Atal Pension Yojana (APY) through Indian Bank Internet Banking. Login here to know more here: https://www.indianbank.net.in/jsp/startIBPreview.jsp .
Public Awareness Campaign by RBI
To bring awareness among the public about various banking regulations and facilities available, Reserve Bank of India (RBI) has released a series of advisory under "RBI Kehta Hai" initiative. Read about it here, be informed and spread the word among family and friends:
https://www.rbi.org.in/CommonPerson/english/scripts/rbikehtahai.aspx
Observance of Anti-Terrorism day at our Indian Bank Corporate Office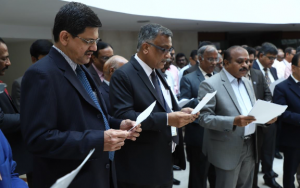 With increase in banking activity across all platforms, especially digital, the need to be alert while transacting has also become important to fend off any loss of money or data. Watch our recent video here to better protect yourself:
Also, learn more about our education loans that is designed to help you meet a varied spectrum of cost associated with your course, in India or abroad.
( Last modified on Aug 22, 2019 at 04:08:00 PM )
Ask ADYA