Launching of "IB-Surabhi"
Indian Bank has brought a new Saving Bank account "IB Surabhi", exclusively for women. Offered in two variants namely Regular and Premium, it comes with bouquets of benefits on cards, loans, lockers, ATM withdrawals, insurance and more. Click here to know more
Concessional Interest Rates for Women
To give fillip to the women account holders, we have extended concessional interest rates under Jewel Loan, Salary Loan and select Home Loan products.
Revision in the MCLR benchmark
1-year MCLR has been revised to 8.65% with effect from 08.03.2019. All loans linked to MCLR shall stand altered accordingly.
1000+ offers on your Indian Bank RuPay Debit Card
Your Indian Bank RuPay Debit Card gives you benefits a cross dining, shopping, travel, entertainment and more! Benefit from over 1000 offers including 100+ online offers. Explore!
Official presence in 5 Social Media Channels
To give you yet another tech- savvy platform to communicate with us, Indian Bank has official presence across 5 Social Media Channels namely:
Facebook , Twitter, lnstagram, YouTube, LinkedIn.
Please follow our official pages and send your banking related comments on these pages only.
Felicitation of Women Achievers on International Women's Day
On the occasion of International Women's Day, Indian Bank honoured 12 Women Achievers for their outstanding contribution in the fields of administration, dance, medicine, music, sports, social work and yoga during a special evening at Chennai. Indian Bank continues to serve and empower women by way of women-centric schemes, skill training institutes, CSR activities and employee welfare measures. See this video to know more .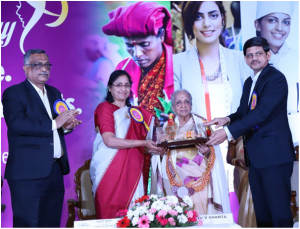 Contributing towards health and hygiene
International Women's Day was observed across the country and to commemorate this special event, several zones like Pondicherry, Cuddalore, Tiruvannamalai, Tirunelveli, Madurai, etc. sponsored Sanitary Napkin Vending Machine and Incinerator to educational institutions as part of our Corporate Social Responsibility.
( Last modified on Aug 22, 2019 at 04:08:41 PM )
Ask ADYA