Executive Director's Profile
Shri Imran Amin Siddiqui
Shri Imran Amin Siddiqui has assumed charge as Executive Director on 10th March, 2021
Shri Imran Amin Siddiqui is an Engineering Graduate from HBTI, Kanpur and a Certified Associate of Indian Institute of Bankers. He started his banking career as a SSI field Officer on 28th December, 1987. He is having a diversified experience of more than 33 years in the field of banking.
Sri Siddiqui has business development background which comes from his strategic positioning as Zonal Manager and Field General Manager in the field for almost 07 years put together in different zones like Kolkata Urban, Barasat and has headed the entire West Bengal and all of the North East states as Field General Manager. He has also worked in various verticals at the administrative offices.
At the Corporate level, he has steered the Credit Department and Credit Monitoring Department with his expertise. He was heading the Resources and Government Relationship department at Corporate Office, Chennai before his elevation.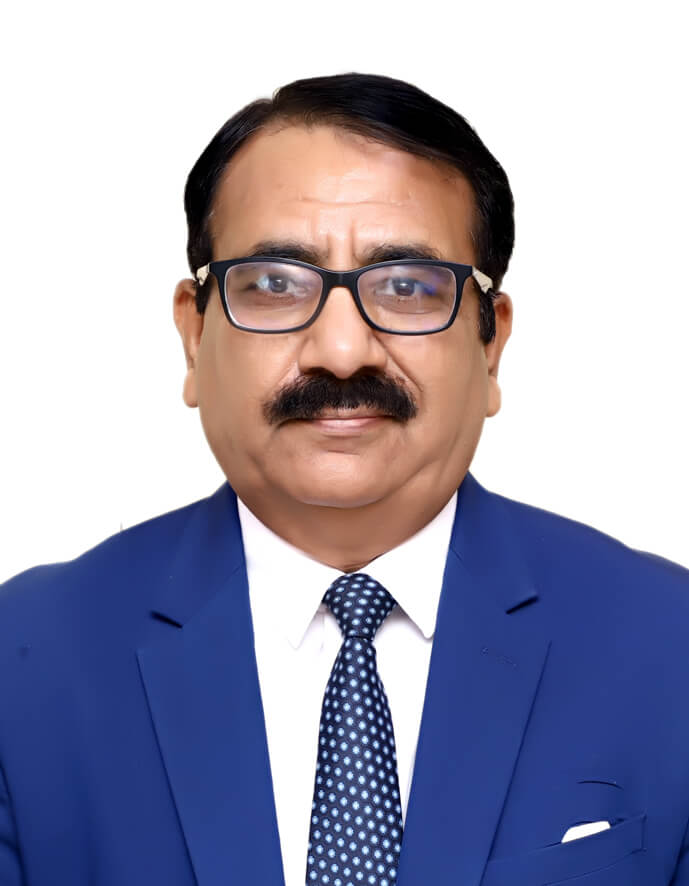 Shri Mahesh Kumar Bajaj
Shri Mahesh Kumar Bajaj has assumed charge as Executive Director on 21st November, 2022
Shri Mahesh Kumar Bajaj is a Postgraduate (M.Sc.) in Applied Mathematics from Kurukshetra University and is also a Certified Associate of Indian Institute of Bankers.
He started his banking career as Probationary Officer with Indian Bank in June 1993 and has over 29 years of experience working in diversified areas both in India and Singapore. During his tenure, he worked in all key banking functions in various capacities viz., Corporate, Transaction, Retail, Rural, Treasury & FX, NPA Management, Human Resources & Internal Audit. He led the International Division, Integrated Treasury and headed Large Credit Branches of the Bank. As the CEO of Indian Bank, Singapore, he has brought various new initiatives viz., setting up of BPR Committee to review the process and procedures, strengthening the compliance aspects, introducing new HR and IT Initiatives in line with the best in Industry. As General Manager – Integration Management Office, he successfully steered amalgamation of Allahabad Bank into Indian Bank.
In his role as General Manager, he was heading the Transformation Management Office, Business Process Reengineering, Digitisation, Analytics Center of Excellence, Marketing and Corporate Communication Departments of the Bank. He was also leading the digital and operating model transformation projects of the Bank – Project WAVE (World of Advanced Virtual Experience) and Project LEAP (Leadership through efficiency, agility and process Transformation).
As a vivid learner, he has attended various training programs and workshops in premier institutes in Singapore and India including Monetary Authority of Singapore (MAS), IIM (Ahmedabad and Bangalore), IIFT  (Indian Institute of Foreign Trade) Delhi, and CAFRAL. He has also completed Leadership Development Programme of IIM Bangalore, curated by the Banks Board Bureau (now FSIB) besides completing the Corporate Governance Programme conducted by Indian Institute of Corporate Affairs.
Shri Mahesh Kumar Bajaj has also served as Non-Executive Director on the Board of Experian Credit Information Company of India Private Limited and Reliance ARC Limited. Presently, he is on the Board and various committees of the Board of Universal Sompo General Insurance Company Limited as a Non-Executive Director.
Shri Ashutosh Choudhury
Shri Ashutosh Choudhury has assumed charge as Executive Director, Indian Bank on 03rd May 2023
Shri Ashutosh Choudhury is a MBA professional and is also a Certified Associate of Indian Institute of Bankers. He has rich banking experience of more than 2 decades. Prior to joining as Executive Director of Indian Bank, he was serving as Chief General Manager & Group CRO of Punjab National Bank.
Shri Ashutosh Choudhury rose through ranks serving various offices of four Public Sector Banks viz. Punjab National Bank, Oriental Bank of Commerce, United Bank of India and Allahabad Bank. His work experience includes working in Enterprise Risk Management, Strategic Planning, MSME & Retail Credit, Profit Centric Operations, Fintech & Digital Banking, Treasury, Corporate Credit, Micro Finance & Financial Inclusion, Balance Sheet Management.
He has also completed Executive Leadership Development Programme of IIM Bangalore.
He has also served as Director in the Board of PNB Gilts, a subsidiary of PNB, functioning as Primary Dealer (PD) in Indian capital & debt market.
( Last modified on Aug 21, 2023 at 08:08:33 PM )