Corporate Social Responsiblity
CSR Activities of Indian Bank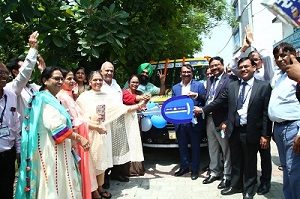 Indian Bank has dedicated a school bus "Tata Winger School 18 Seater SCV" to Tapan Rehabilitation Society Karnal to facilitate the children with disability, which will help Tapan society to pick up the children from remote areas across Karnal district and bring them to the centre. On behalf of the Bank, Sh. Mahesh Kumar Bajaj, GM(TMO/BPR) Corporate Office, Chennai and Sh. Ashok Patnaik, FGM Chandigarh handed over the Keys of vehicle to the Founder Director Dr. Sujata (who was brand ambassador in Beti Bachao Beti Padhao "movement in Haryana) at Tapan Rehabilitation Society, Nilokheri, Karnal.
Hon'ble Chief Minister of Uttar Pradesh Shri Yogi Adityanath ji flagged off three ambulances from his residence which were donated by Indian Bank under CSR activity. Out of three two ambulances were allocated to KGMC Hospital, while One ambulance was allocated to Civil Hospital, Lucknow. The above function was also graced by the Executive Director of Indian Bank Shri Imran Amin Siddiqui along with Shri Ravinder Singh (General Manager- Indian Bank), Shri Pankaj Tripathi (Field General Manager, Lucknovw) and Shri Prabahat Ranjan Sinha (Zonal Manager, Lucknow).
CSR activities organised PAN India on the occasion of 115th Foundation Day of our Bank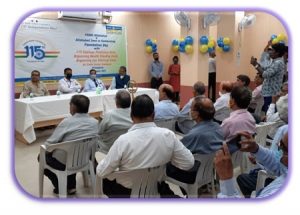 FGMO Allahabad – Distribution of essential items to Senior Citizens at Aadharshila Old age home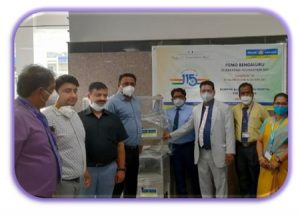 FGMO, Bengaluru – Donation of IV Saline stand and Locker set for COVID Ward of Lady Bowring & Curzon Hospital, Bengaluru and Distribution of Bags , Kitchen items to Govt School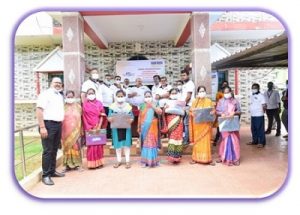 FGMO, Bhubaneswar – Donated essential items for Senior citizens at Mission Ashalok and Ashya Mission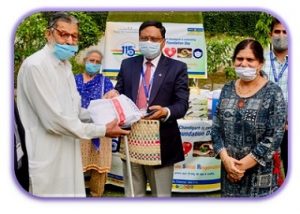 FGMO, Chandigarh – Distributed essential items for Old-age Home at Sector 15 Chandigarh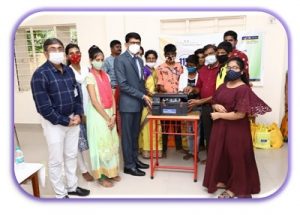 FGMO, Chennai – Donation of multi functional printer machine to CSI Higher Secondary School for Deaf, Santhome, Chennai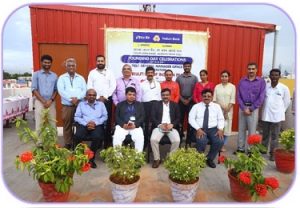 FGMO, Coimbatore – Distribution of Insulin pumps to children suffering from Type 1 Diabetics through Idhayangal Charitable Trust
FGMO, Delhi – Cooler chest of 540 L for Rashtriya Virja Nand Kanya Vidyalaya Society for underprivileged girls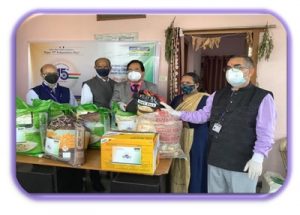 FGMO, Hyderabad – Distribution of Essential grocery items at Maanyatha Old-age Home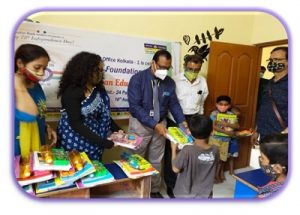 FGMO, Kolkata – Books to the students of Uddipan Educational Trust, an inclusive school for less privileged people of the society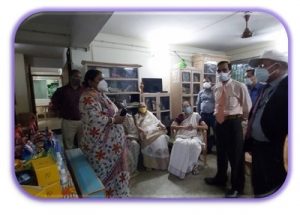 FGMO, Kolkata II – Distribution of Daily essentials to Senior Citizens at Navanir Home for Aged
FGMO, Meerut -Distribution of Clothes to underprivileged of Prem Niwas Catholic Dioscese of India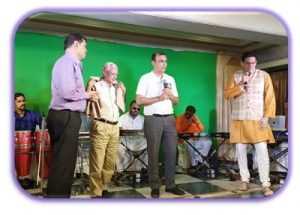 FGMO, Mumbai -Distribution of Groceries and arranged entertainment program for senior citizens by Blind artists
FGMO, Patna – Essentials, 40 chairs & 1 air conditioner to -Utkarsh Seva Sansthan for Physically-challenged children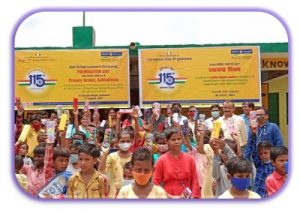 Indian Bank sponsored National Flags embedded with seeds of trees, Pencil Boxes and Fans to the Govt. Primary School, Sabhakheda under CSR activity
Indian Bank donated Grocery items to 320 specially abled women belonging to Society for Right of All Women with Disabilities(SFRAWD). Ms Padma, Patron SFRAWD inaugurated the CSR Activity in the august presence of Ms. Maya Nagarajan,General Manager, Corporate Office, Shri. G.Rajeshwara Reddy, Field General Manager, Chennai, Shri.P.Anbu Kamaraj, Zonal Manager, Chennai(South), Senior Officials of the Bank and Officials of SFRAWD were present during the occasion.
Indian Bank has dedicated a vehicle "ECCO MARUTI" to Blue Cross of India to facilitate as utility vehicle, which will serve injured/ sick animals during Golden Hours. Ms. Padmaja Chunduru, MD & CEO, Indian Bank, handed over keys of utility vehicle and flagged off the vehicle in the august presence of our ED Sirs (Mr.Shenoy Vishwanath V & Mr. Imran Amin Siddiqui ) and all corporate office GMs   to Mr. Chinny Krishna, Co-founder and Chairman Emeritus of Blue Cross of India, Chennai on 01.07.2021.
Financial Support to Combat Covid-19
Ms Padmaja Chunduru, MD & CEO, Indian Bank handed over a cheque of Rs. 1.00 crore to Shri M K Stalin, Hon'ble Chief Minister, Govt of Tamil Nadu for Covid-19 relief measures to the Chief Minister's Public Relief Fund as part of the Bank's CSR activities at the State Secretariat, Chennai on 19.05.2021. Shri K Ramachandran, Executive Director, Indian Bank and executives of the Bank were present on the occasion.
Shri. H.S. Ahluwalia, FGM, Kolkata – I handed over a cheque of Rs. 25.00 lakhs to Chief Secretary, Govt of West Bengal for Covid-19 relief measures to the Chief Minister's Public Relief Fund as part of the Bank's CSR.
Shri Tanmoy Dey Sarkar (ZM-Outgoing), Shri Chandaneswar Goweswami (ZM-Incumbent)   handed over Rs.10.00 Lakhs to Hon'ble Chief Minister of Assam Dr. Himanta Biswa Sarma at CMO, Assam Secretariat on 29.06.2021.
Zonal Office, Puducherry handed over Rs.10.00 Lakhs to Hon'ble Chief Minister of Puducherry in presence of Health Secretary Dr. Arun IAS, Secretary.
Indian Bank's contribution to CM's Relief Fund towards COVID crisis to Chief Secretary, Odisha, Mr. Suresh Chandra Mohapatra, IAS by Shri B. Suribabu, FGM Bhubaneswar.
Indian bank donated of 15 jumbo Oxygen cylinders to Seth Tarachand Charitable Hospital, Pune for increasing the capacity of their COVID care centre. Shri Manish Kumar, ZM, ZO (Pune) on 07.05.2021 handed over the cylinders to the hospital.
Indian Bank sponsored for the distribution of 200 COVID Medicines Kit to COVID affected poor people through Sadar Hospital Mirzapur & Sonebhadra under CSR Activity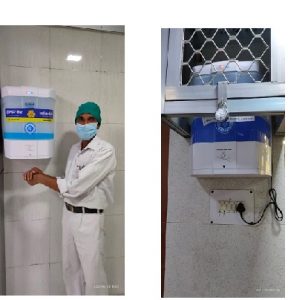 Indian Bank sponsored  Four Wall Mounted Sensor Sanitizer to Dr. S P M Civil Hospital Lucknow  under CSR activity.
Our bank 's sponsorship of trolleys & fiber plastic plates to Sri Padmavathi Covid Care Center, Tiruchanur to combat COVID-19 under CSR
sponsorship of  PPE kits to Coimbatore Municipal Corporation, in the presence of Asst city health officer  Dr. Vasanth and Superiendent Mrs. Gomathi, Coimbatore.
( Last modified on Oct 16, 2021 at 07:10:37 PM )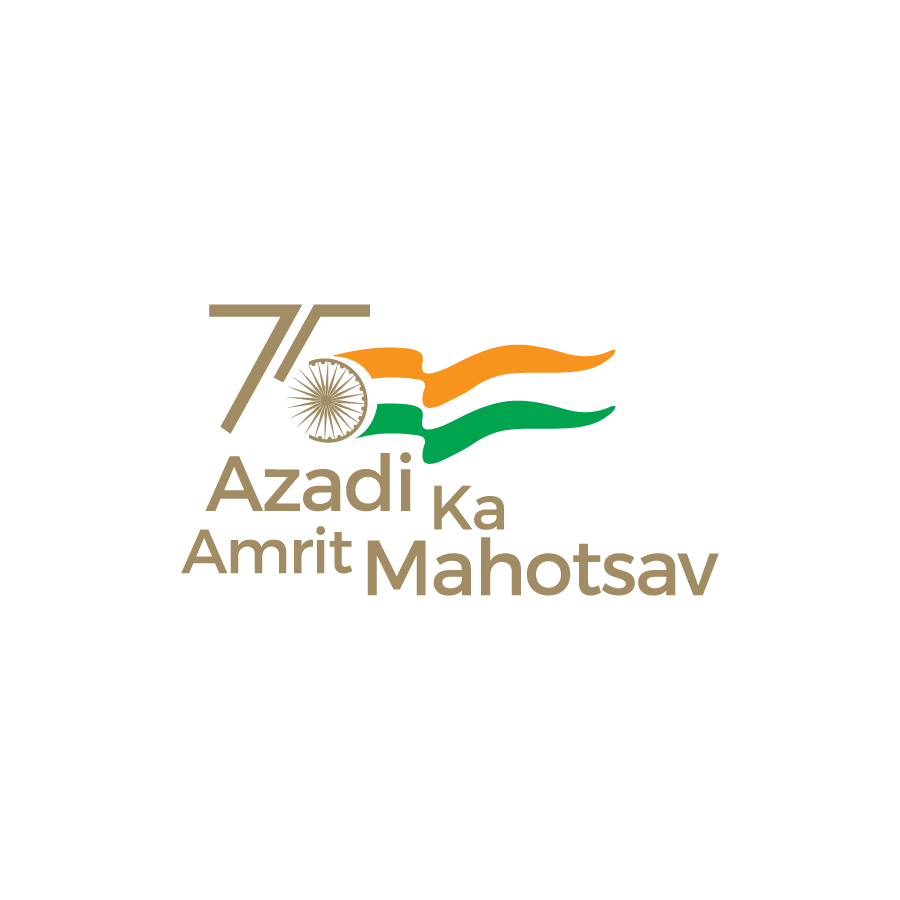 Ask ADYA